Cheetah Digital Loyalty Configuration Workflow
The Cheetah Digital Loyalty Consumer Relationship Cloud is remarkably easy to set up and offers unparalleled flexibility to make content changes in minutes. Using the Cheetah Digital Loyalty Marketing Console, marketers can easily setup a loyalty program, rapidly author and publish program content, such as promotional offers, games, engagement challenges, and these changes are immediately reflected in all consumer client applications.
Cheetah Digital Loyalty leverages modern, metadata techniques so that marketers can edit and update all the business logic in minutes, without coding. Marketers can go from dream to reality in days – not years. Cheetah Digital Loyalty offers rich mobile software development kits (SDKs), combined with a powerful platform that leverages a technique called "metadata" that the Cheetah Digital Loyalty team pioneered many years back. Today, the metadata-driven development approach is relatively well understood, but in the 1990s, the original Siebel Systems team invented this concept to marry the requirements of business configuration with seamless upgradability.
Metadata has evolved over the years to take advantage of the cloud, mobile, social, and analytics. As such, the Cheetah Digital Loyalty team has deployed the most modern technology advances to create an incredibly fast method of building and deploying new consumer relationship applications.
Web-Based Marketing Console
Cheetah Digital Loyalty's web-based Marketing Console empowers the marketer to control every aspect of the brand's loyalty and engagement program. Our design goal is to empower you to run the program, from designing tier rules and member attributes to adding in content for news feeds, pushing out offers, challenges and rewards. The process is simple and effective, from incorporating artwork, previewing content, selecting audiences, setting limits and prizes, and pushing to production. Cheetah Digital Loyalty web, mobile, and social clients reflect the new changes – whether these are program rules changes, new offers, or new challenges – the moment the changes are deployed to production.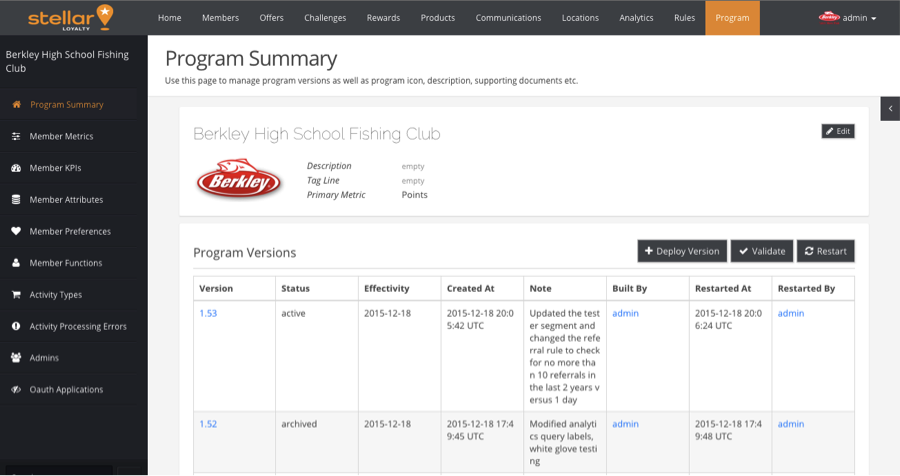 Purpose-Built CMS
Cheetah Digital Loyalty includes a built-in CMS for managing content including offers, challenges, rewards, contests, and messages. With this purpose-built CMS, marketers have an easy-to-use and consistent lifecycle management experience across all Cheetah Digital Loyalty Consumer Relationship Applications, such as a built-in workflow process for reviewing changes in draft form before becoming visible to the larger consumer population.
Access Control
Cheetah Digital Loyalty employs powerful access control and data visibility rules to ensure that each marketer can only view and execute the capabilities for their roles. Cheetah Digital Loyalty's built-in access control mechanisms become more critical as marketers delegate responsibilities across other divisions, regions, and franchisees.
Marketer-Driven KPIs and Rules
Cheetah Digital Loyalty offers the ability to easily define program KPIs and then measure performance against those KPIs in real time. It is difficult to predict all the key measurements in a successful program up front. With Cheetah Digital Loyalty Consumer Relationship Cloud Applications, marketers don't have to. Leveraging its metadata model, Cheetah Digital Loyalty lets marketers create new KPIs and metrics on the fly. Loyalty earn rules and tiers are equally easy to define and change in minutes. Cheetah Digital Loyalty supports advanced business rules to support virtually any type of activity, points earn rule, redemption rule, expiration rule, or tier rule.